Herb Meyer Regatta 2017
The Herb Meyer Regatta for
Hansa Class Liberty and 303

and RS Tera (Junior Invitational)
South Beach Harbor
Pier 40 On the Embarcadero, San Francisco CA 94107
September 23-24, 2017
herbmeyerregatta@baads.org
The Bay Area Association of Disabled Sailors (BAADS) invites all sailors of Liberty, Liberty Servo, 303 Hansa Classes to participate in the 2017 Herb Meyer Regatta.
Volunteers can sign-up by filling out the Volunteer Form.
REGISTRATION AND COMPETITORS INFORMATION
**The Sailing Instructions will be available at the mandatory skippers meeting Saturday at 1000.**
You can download the Notice of Race here: HMR-NOR-2017
Register online now by filling out the Online Registration Form. Skippers should register as soon as possible, but in no case later than September 23rd, 2017. Skippers unable to access the registration website may register by emailing herbmeyerregatta@baads.org or leaving a message at 415.281.0212.
Boats will be provided by BAADS.
Entry Fee is $40 per sailor, payable to BAADS.  Note that the fee may be waived with proof of hardship.
Continental breakfast and lunches provided both days.
SCHEDULE
RACE DAY – SAT 23rd
9:00 – Continental Breakfast/Register racers – Community Room
10:00 – Skippers' meeting
11:00 – Pickup Subway box lunch at BAADS dock. Loadout/Dock out/Sail to race area in front of Bay View Boat Club.
13:00 – 16:00 – Race (hopefully 3 races)
17:00 – No host bar SBYC
RACE DAY – SUN 24th
10:00 – Continental Breakfast – Community Room
11:00 – Pickup Subway box lunches. Loadout/Dock out/Sail to race area in front of Bay View Boat Club
13:00 – 16:00 – Race (hopefully 3 races)
17:00 – No host bar SBYC
18:00 – 21:00 – BBQ & Awards Dinner SBYC
CONTACT:  herbmeyerregatta@baads.org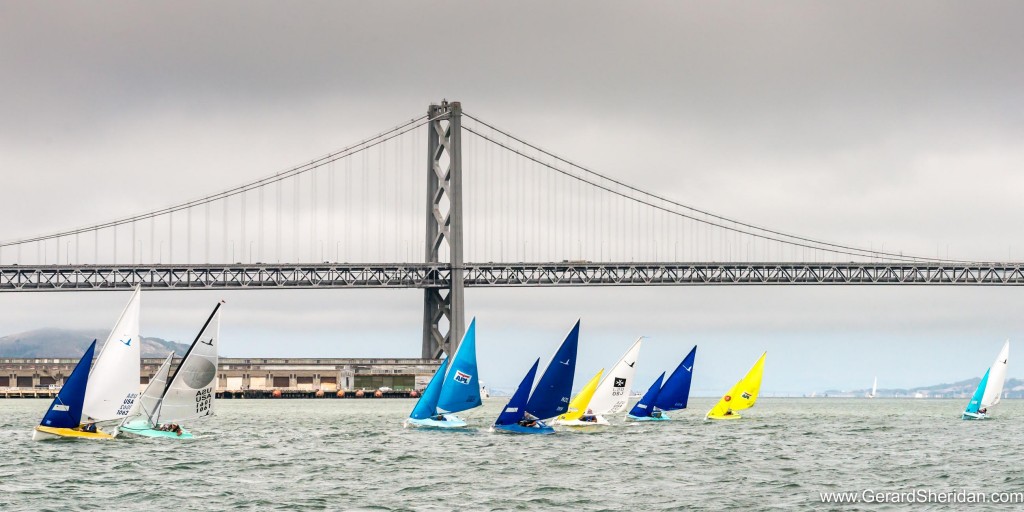 Liberty fleet in the 2014 Herb Meyer Regatta. Photo by Gerard Sheridan